Croissant gives you easy, everyday access to your favorite coworking spaces. Choose any space, anywhere, with one flexible membership.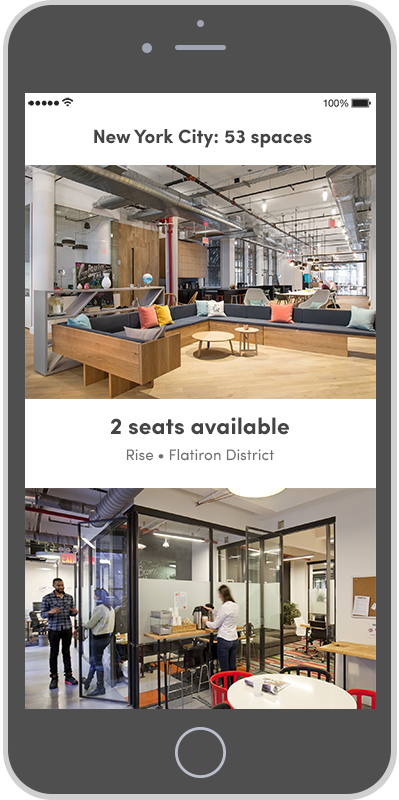 How it works
Choose from thousands of seats
Find open seats at nearby spaces to meet, work, & focus on your projects.
Check in with the app
Drop by when you need the space and check in for instant access.
Plug in and get to work
Fast wifi, coffee, plugs, and like-minded people at each space.
Find workspaces near you
Use coworking spaces anywhere with one monthly membership - no commitment. It's easy to be productive around your schedule.
Show full map →
Reinvent the way your remote team works
Say hello to happier, more productive teams. Give your employees flexible access to workspaces around the world
Get more information →
Save over 50% off drop-in rates
Book through Croissant for the best rates on coworking space and private conference rooms
Why remote workers use Croissant
"All the good vibes of a cafe...without being subject to a cafe's music, prices or the random patron who asks: 'Hey dude, you writing a screenplay, too?'"
Bryan L, Freelance Journalist
"I love the fact that I can drop into spaces for two hours and then get up and go somewhere else to a meeting, and then wherever I am, look at the map, and be by a new space."
Ava R, Strategy Consultant
"Croissant moves straight to my home screen when I'm in the US for work. Different office every day is awesome."
Jeremy B, Founder of Emojipedia
"it's an office anywhere you need it in the city for far less than you'd pay for a co-working membership. If you don't need a desk 9-5 everyday, I'd highly recommend checking it out."
Justin G, Attorney
"I love croissant <3 You just need to check in on the app and say that you are a Croissant member to the front desk and you can feel free to work."
Laura W, Engineer at Spotify
"My colleague and I are loving the ability to jump around from different locations in the city and explore beautiful new creative spaces."
Jessica P, Creative Director at JPD Studios
Some of our top locations